Filtration Power: Up to 198 lbs/min

Particle Uptake: 5.5 lbs

Suction Depth:  ~ 17.7 in

Max Temperature: 397°F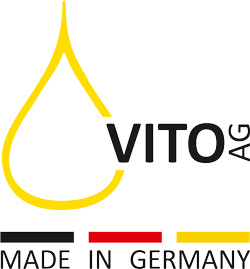 VITO AG was founded in 2001, the company became a global player in the sector of portable filtration systems and is used in over 40,000 businesses, spread across more than 150 countries. Apart from the headquarters in Tuttlingen (Germany), the company established branches in Hürth (Germany), Dubai (U.A.E.), Chicago (USA) and Santa Lucia Di Piave (Italy). With over 21 years of experience and the maximum growth in the HoReCa sector, the company took up a long-standing idea and decided, to expand the range of customers to the industrial sector. VITO has an enormous potential in this field and creates indispensable advantages with its effect.
All VITO filter systems are produced in the headquarters in Tuttlingen, Germany. In accordance with the quality seal "Made in Germany ", their specialists carefully check the composition of products through the entire production process, from material receipt and the process of assembly, to testing, packaging and shipping. Only products meeting their high standards are leaving their facilities. The top quality of the VITO systems is being confirmed by hundreds of satisfied customers who use them daily in the most demanding operations